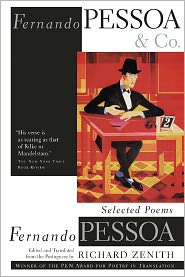 Fernando Pessoa has the rare distinction of being several notable people within a national literature.
He wrote in Portuguese, and if you discount Brazil as, well, Brazil and not Portugal, he collectively stands along side Luis de
Camões as one of the greatest poets -- or in this case, group of poets -- Portugal has produced
Simply put, Pessoa wrote under a number of assumed names. Each of those names and surrounding body of work has not only a garnered their own reputation, but each "poet" has their own identity in not only subject matter, but in poetic form. The genius of this, though, is that he took pains to even differentiate how each of his aliases used language.
Still, there's one rather mundane way Pessoa was ahead of his time. Each of his created poets also interacted with each other, through "letters" and other public written means. In short, this must have looked like an act of creative schizophrenia when he was alive. Presently, this sort of thing is more common than what one might think. Look at any messageboard with trolls. Sometimes, people have a tendency to create alts for a variety of reasons, but usually to gin up a flame war and controversy, as a way of demanding attention to some sort of book promotion. In my experience, this typically happens at high trafficked places, and in horror, that would be the Shocklines message forum. Then again, I haven't seen it happen in a year or two, but I haven't been hanging around message boards all that often, as of late.
So while Pessoa's poetry wasn't necessarily post modern, the splintering of identity in the poet himself was actually well ahead of its time.